Recycle and reuse items in your crochet. While this article contains only one idea, we will expand it as we continue to develop more ideas.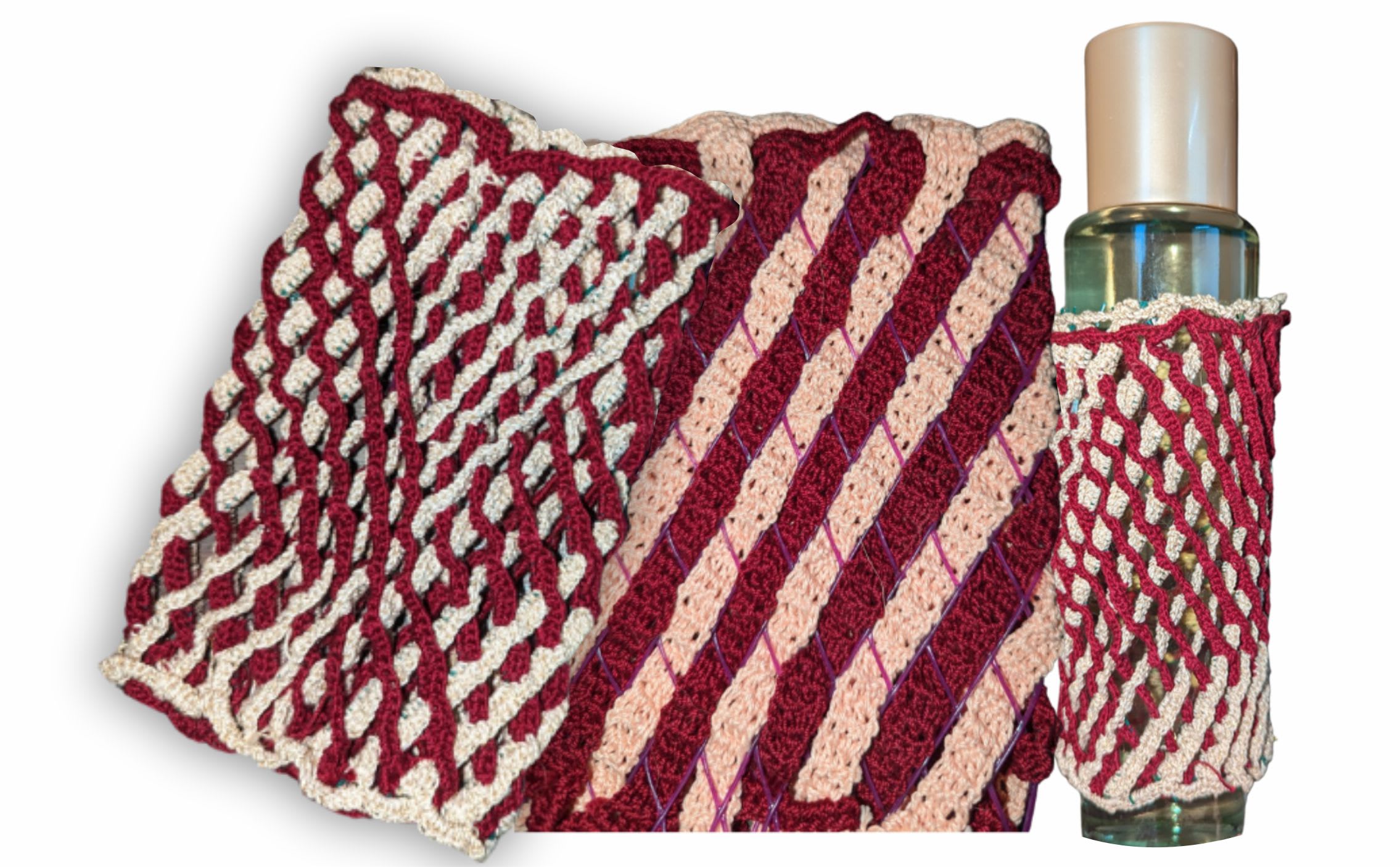 If you are like me, you are forever looking for scrap yarn projects, and if you're more like me, you're looking for ideas on how to recycle items normally thrown in the garbage..  
I love wine, and often buy two or more bottles at a time. Each time the wine store puts those plastic fish-net, stretchy things over the bottles to protect them from clanking together and breaking. When you get the wine home, you remove these and put the wine in your wine cooler, or wine rack. But then what do you do with the fish-net thingy's - mesh bottle sleeve's to be more precise? I don't know about you, but I hate throwing things in the garbage, when there is the possibility of recycling, or reusing in the future (yes, I am a bit of a pack rat...).  
One day a few years ago, an idea was born one Sunday afternoon when I was between major crochet projects -- looking for something to crochet that didn't take a lot of thought, or documenting stitches - just something to keep my hands busy -- If you're an avid crocheter, you know this feeling! The idea - why not make the mesh bottle sleeve's more decorative - for those gift giving occasion's? 
Decorative Wine Sleeves
I knew keeping these mesh things around would create inspiration or another use one day - anything is better than putting them in the landfill.  (Believe me, I have containers of bread clips, bottle caps and multiple other items, just waiting for a major brain storm to recycle them). Anyway, I picked up my crochet hook and some left-over balls of mercerized cotton and set to work. The result two decorative wine sleeves. I have a few others in the works, yet to be finished...
Normally I would sell the patterns, however these are so simple, you don't need to buy a pattern to create these two.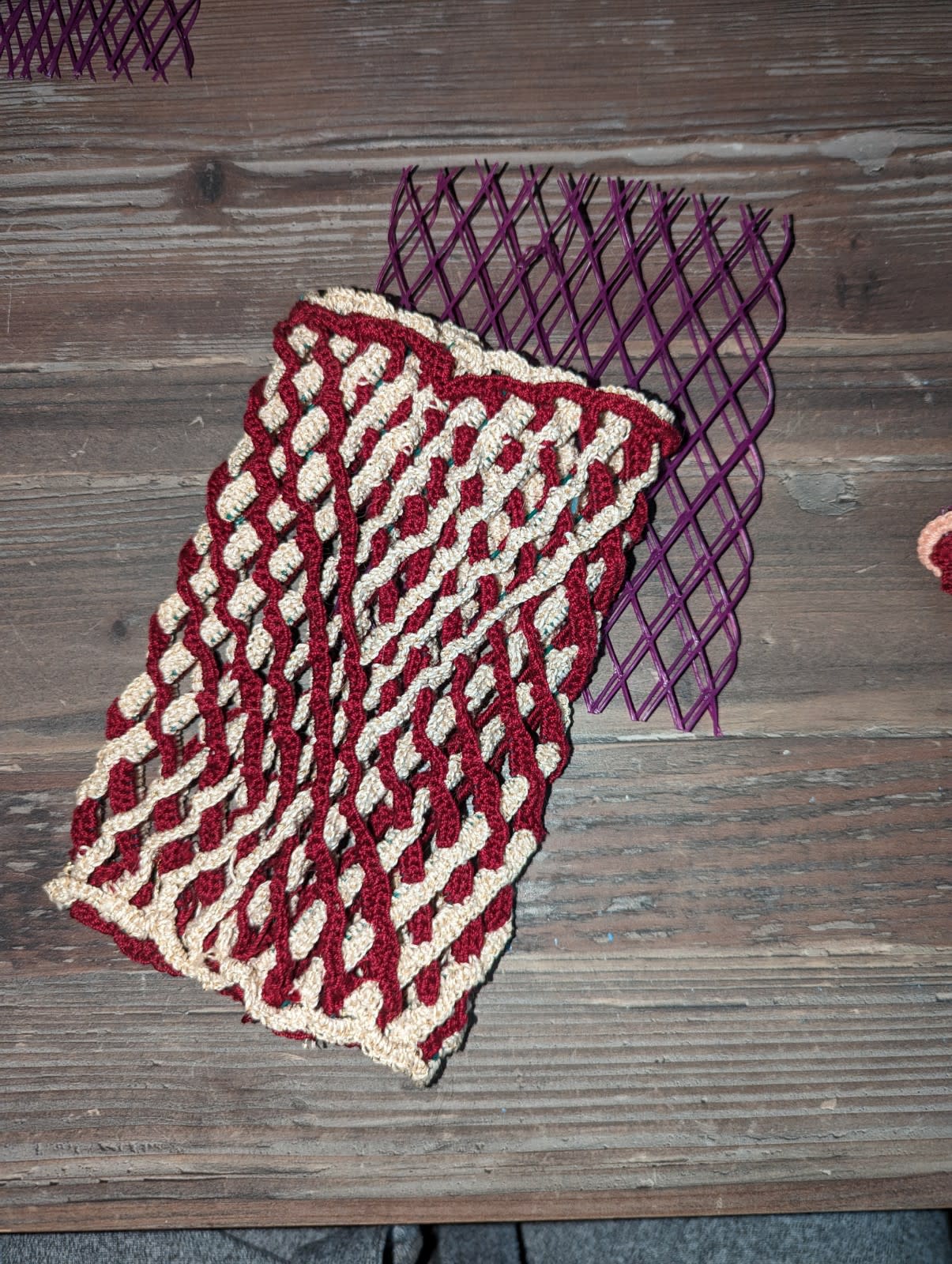 Pattern 1: Wine & Beige
Row 1: Using colour A - simply start at any diagonal line, single crochet along entire length of the line, reverse and repeat 1 sc in each st of previous row. Fasten off. 
Repeat row 1 for each diagonal line running in the same direction all the way around the mesh sleeve. 
Next: Using colour B - repeat row 1 above on the opposite diagonal line around the mesh sleeve, Ch1, over previously crocheted rows. 
To Finish: Sc across the top stitches to fasten off and keep the crochet from breaking the sleeve and falling apart (guestimate # of stitches required). 
Pattern 2: Wine and Peach
Ch 6,
Row 1: Dc in 3rd ch from hook and 1dc in each of next 3 sts. (4 on hook). Turn.
Row 2: Ch 3, (counts as first dc) work 1dc in each of next 3 sts. Turn
Repeat row 2 until desired length. Fasten off.  
Repeat above for number of spaces in the mesh sleeve. Weave each through the sleeve. 
To Finish: Work 1 sc in top of each row (4 per row end) around, joining each of the weaved ends together around. Turn
Ch1, 1sc around, fasten off. 
Repeat on opposite edge of project.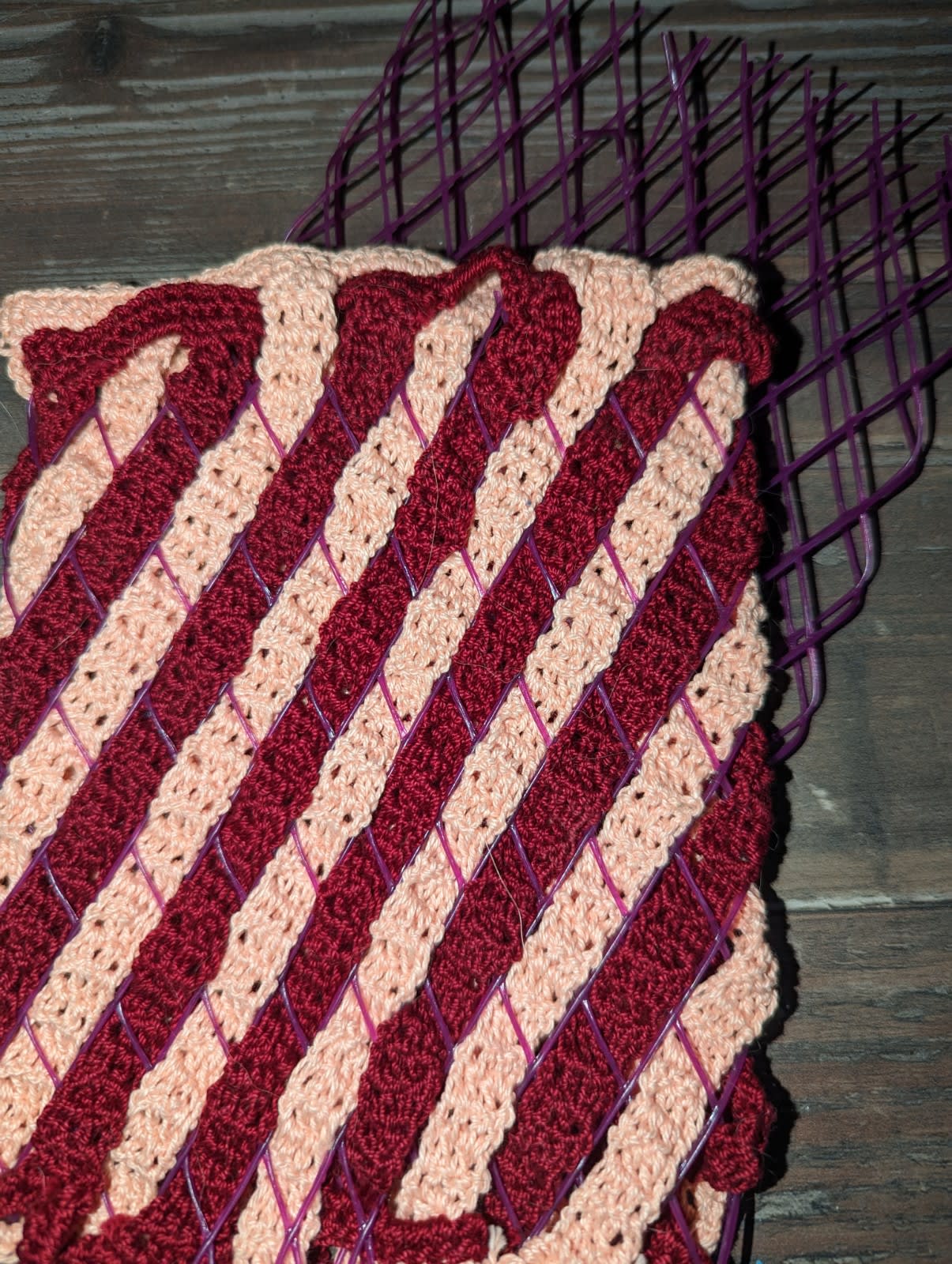 Now that you have these two under your belt, I'm sure you have ideas for many more. Send us your photos, (and the pattern if you like - free patterns only), we'll be sure to publish it for all to enjoy! 
We will update with other recycle / reuse projects along the way as well. 
Happy crocheting!