The Chatelaine Crafts prizing winning Centennial Rug article surfaces while Canada is celebrating 150 years. I wonder where this rug is today? 
---
It has been awhile since I've posted here, -- life has just been too busy for archiving all the crochet items I have. Believe me there are boxes and boxes to go through.  
This week however, I dropped by my parents new condo to check it out (they recently moved from their big home to a condo just for two), and to pick up a few more boxes of things they thought I would like to have.  One of those boxes contained more crochet patterns, motifs and odds and ends.. 
Some of what was in the box were patterns, but many more were the clippings of where to send for the patterns (mail order, 1960s style).  It was quite interesting reading some of the news articles on the opposite pages to the ads.  I tell you, that box had blog post after blog post screaming at me.... This is the first. Some of the other blog posts will be written on my marketing company's site rather than this one. Anyway, that's another story.  
Getting back to this story... 
So, for my Canadian followers, I'm sure you know,  this year -- 2017 -- is Canada's sesquicentennial: 150 years since confederation.  A topic near and dear to me as I am the chairperson for our local 150 celebrations here in Welland, Ontario. 
And now, back to the box...
One of the articles in the box was from Chatelaine Crafts. It was announcing the winner of a Centennial rug contest held in 1967, Canada's 100th birthday! I thought it rather odd that the article was in the box at all. The flip side did not have a pattern on it, nor did it have a pattern to be ordered. It makes me wonder if the lady in the article was/is a relative or a friend of my grandmother's. Or, did she simply like the article and keep it for heritage sake?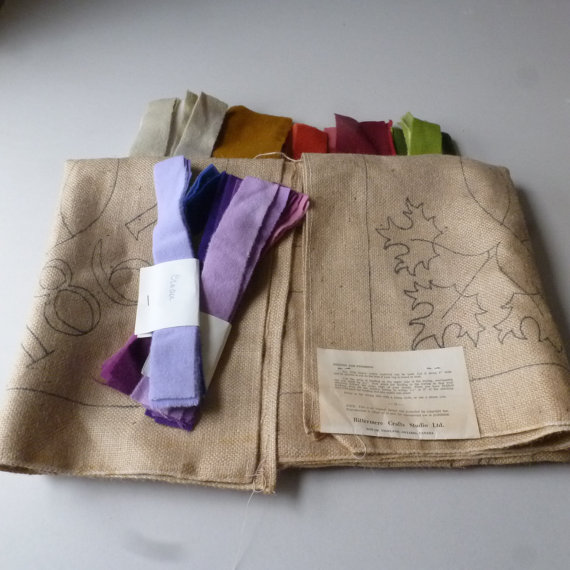 At first, I thought the winner designed the rug and made it, but as it turns out, she simply made it from a pattern. Amazingly enough. I found the kit available for sale on Etsy. (Sorry if the link stops working, the item has been sold, so it may not be available in the future.  I've shown the picture from Etsy here. 
Apparently, the original design for the kit was done by the Rittermere Craft Studio of Vineland, Ontario.  Local to me - just a stone's throw away.  The kit was created as an original design for Chatelaine Crafts. 
Interestingly, I found archives of the business at Brock University. And more information regarding what Brock's archives hold in this link. I believe I read somewhere Helen Rittermere was one of the founding members of the Ontario Hooking Craft Guild established in 1966 - but for the life of me I cannot find where I read that... 
Amazing how finding one little piece of history opens so many doors. 
It still leaves me wondering. Since the box of patterns and motifs belonged to my grandmother Helen Prokator of Guelph, Ontario -- did she know Mrs. Robert L. Bolton of Agincourt. I can't for the life of me figure out why she would keep this article without there being more to it. I do not recall my grandmother ever doing rug hooking. She crocheted and as a seamstress made clothes after clothes after clothes for my father, his sisters, myself, my brothers, and my cousins. Unfortunately, my grandmother passed some years ago. A mystery never to be solved I'm sure.  
Everything else in the box made sense as to why the old newspaper and magazine clippings were there. This one just seemed out of place. My grandmother would not know 50 years ago, that her granddaughter would eventually find this article in this particular box...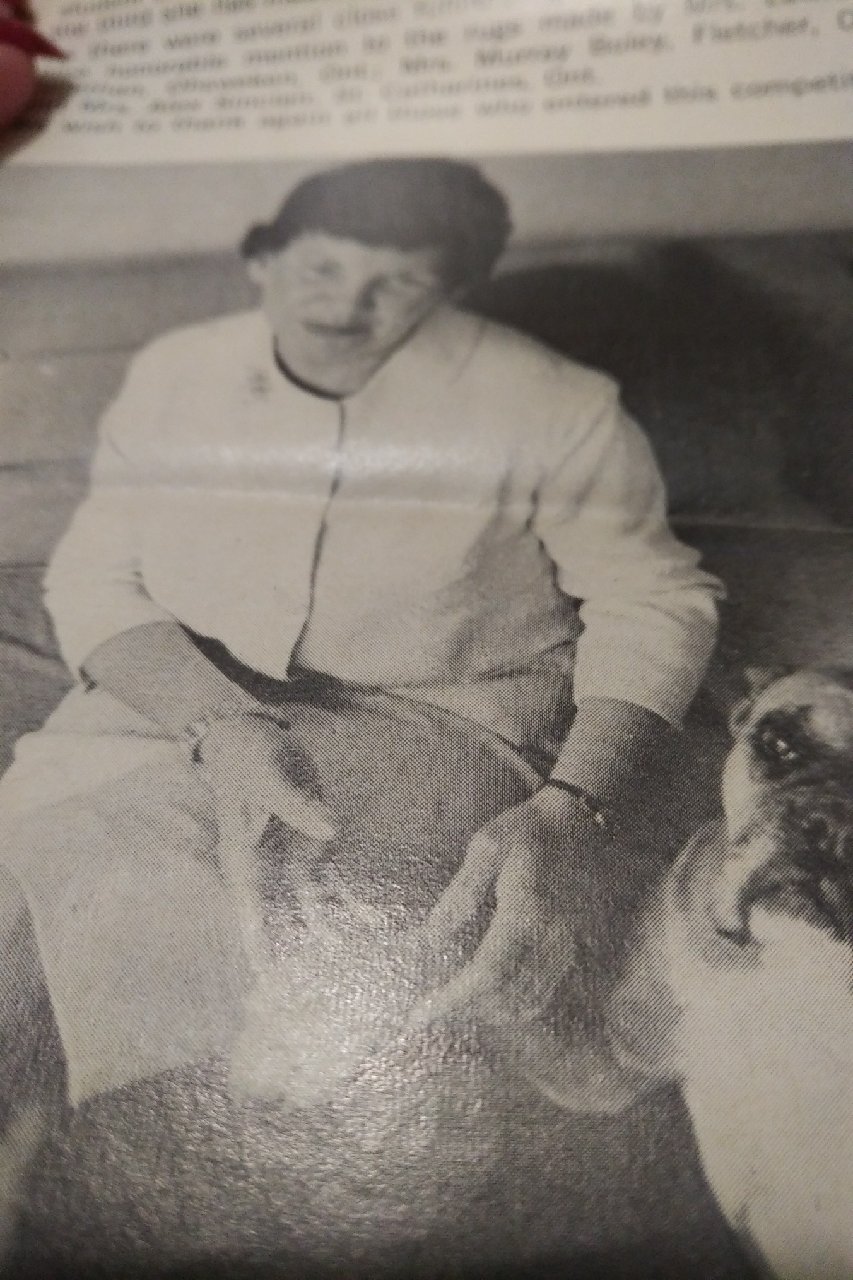 On a side note, I couldn't help thinking - it might be tough to know more about the winner of the contest or the honourable mentions. They were all referred to by their husband's name. Maybe it wasn't the winner, but the honourable mentions that my grandmother knew - or maybe none at all... Or maybe, my grandmother had entered the contest. I guess I will never know. 
Just in case someone out there knows these women their names were:
1st place: Mrs. Robert L. Bolton (Agincourt, ON) pictured here: 
Honourable mentions: 
Mrs. Lawrence Jonathan (Ohsweken, ON)
Mrs. Murray Boley (Fletcher, ON)
Mrs. Alex Sinclair (St. Catharines, ON) 
I wonder, was their a Sesquicentennial Rug Hooking contest?