It's Crochet Season -- Fall marks that time where we all get serious about crocheting again. Whether it be we're just not as active as the summer months, or we're crocheting for the holidays... It's definitely crochet season and Annie's knows it.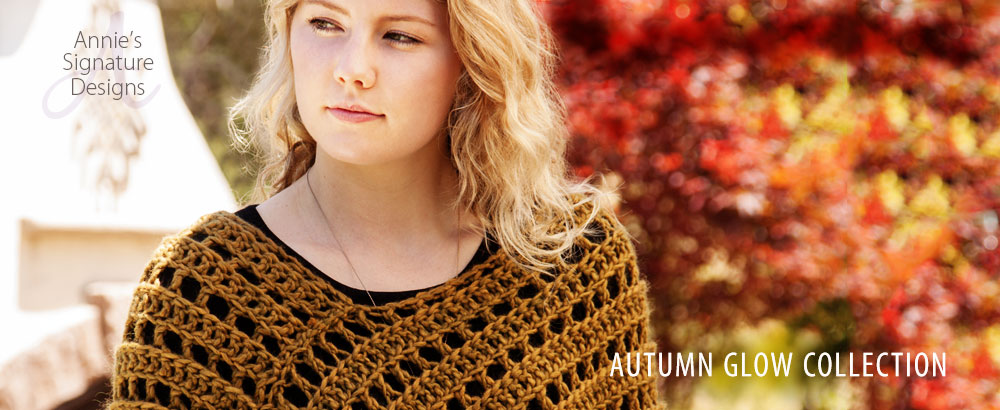 Where I live in Welland, Ontario Canada, you would never know the first day of fall was this past Friday. We're in the middle of a heat wave with humidex readings reaching 40 Celcius today. It will be a scorcher. That being said, it is fall and it won't last long. Like you and many others, my mind set is back to crocheting rather than out on the water enjoying the sunshine. (I will be crocheting outside however today). Regardless of the weather, for me Fall marks the beginning of crochet season, sweaters, comfort food and beautiful colours.  
The comfy coziness of fall has never been more evident than in Annie's Autumn Glow Collection for Fall 2017! The colours and yarns are awesome, the designs on-trend. I can't wait to get started. 
"With the first cool breeze of fall easing down the golden coast, my crafty spirit is awakening. It's time to snuggle up on the couch and start some new creations. A lifelong love of working in yarn makes me so excited to present this Autumn Glow Collection for Annie's Signature Designs. You will see that my Scandinavian style shines through, as I apply my background and traditions in every detail of my designs. I proudly welcome you to come along on a journey through the back roads of my beloved California landscape, watching the rolling hills bathe in the golden glow and explore what has inspired me..."

– Lena Skvagerson, Lead Designer, Annie's Signature Designs
Already this season, I have crocheted several messy bun hats, scarf, mermaid, headbands, a lap blanket, a new mat and even a mermaid blanket. Watch for new patterns arriving soon. 
Today, however I'm showcasing one of Annie's patterns called the Euphoria Cardi -- it is awesome. I hope to be making this one myself very soon.  
Get your FREE Euphoria Cardi Pattern NOW!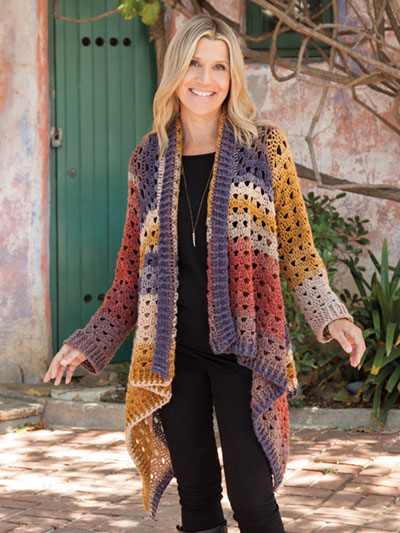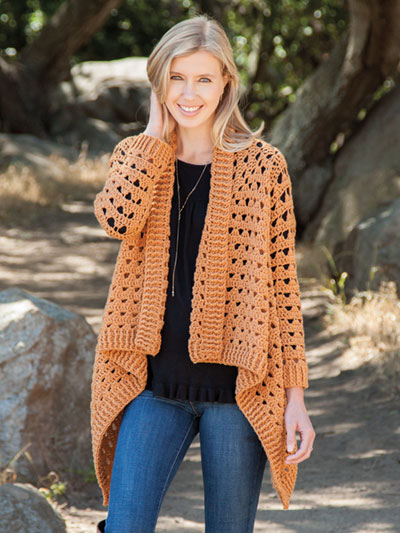 What's your preference? 
Multi-colour or single colour. Either way this lovely hand-made crocheted Euphoria Cardi piece will be your go-to-favourite this fall.  
The pattern uses #3 light yarn and is rated as 'Easy' to crochet.  
The solid version is made using 6 (7, 7, 8, 8, 9) skeins of

Lion Brand Yarn Vanna's Style DK-weight yarn

.
The multicolored version is made using 5 (5, 6, 6, 7, 8) skeins of King Cole Riot DK yarn. Instructions are written for sizes: S (M, L, XL, 2XL, 3XL). 
My favourite is the King Cole Riot yarn - vibrant and easily suits many colour combinations for your wardrobe.. It's just perfect. 
Using a variety of stitches including puff stitch, sc, hdc, dc, tr, this pattern works up fast... 
And as a special treat, we're offering you the Euphoria Cardi pattern FREE! All you have to do is sign-up for our newsletter to get it! 
Get your FREE Euphoria Cardi Pattern NOW!
---
Euphoria Cardi is published by Annie's, 306 East Parr Road, Berne, IN 46711. Printed in USA. Copyright ©2017 Annie's. All rights reserved. This publication is offered with permission.