Great for carpeted floors maybe, but in today's homes these would not work well on our ceramic tiles and laminate flooring unless a non-slip gripper was added to the soles. 
---
Oh my... would you wear these?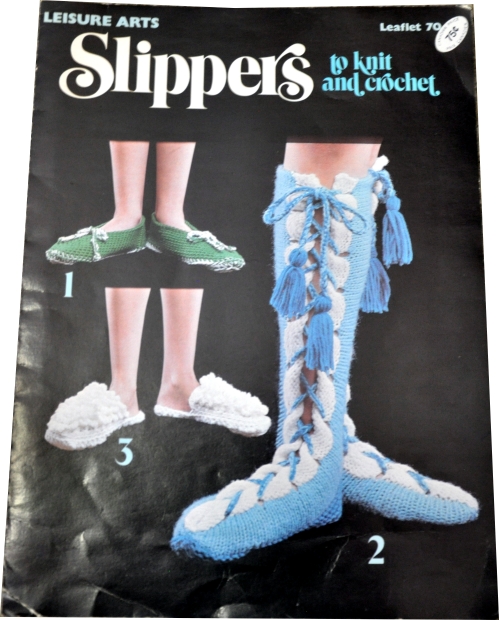 I would maybe wear #3, #4 and #5 if they had a non-slip sole. What about you? Would you ever consider wearing #2? I know I wouldn't. I want to relax when I get my slippers on, not work to put them on. LOL. I might just have to design a few pair of slippers in the near future. 
I can remember the mid to late 70s. I can even remember my mother making slippers for us out of that dreaded Phentex yarn (read my thoughts on Phentex). I remember hating them then, and given I have this crochet and knit pattern leaflet, I'm sure those slippers came from this booklet. It's Leisure Arts Slippers to knit and crochet, leaflet #70 which sold for a whopping $0.75. Dated 1976.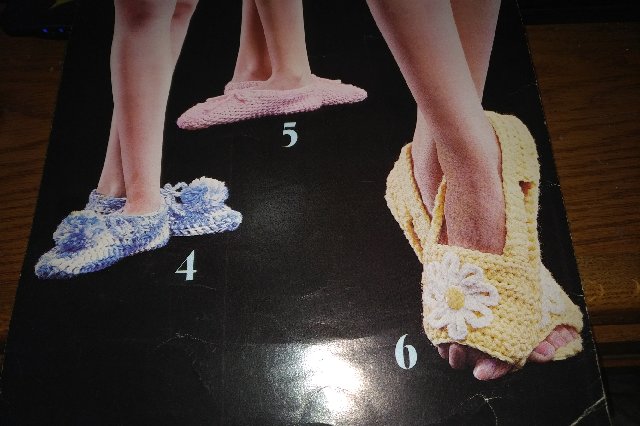 First it would have to be one soft yarn with a very smooth pattern for me to put these on my feet - or I would have to add insoles. Next, I'm sure the numerous slides down the stairs from wearing these slippers years ago contributed to the squashed vertebrae I have today (probably more so from landing on my rump every time I fell off a horse - oh my poor tailbone). Anyway, at least today, there are numerous products on the market you can purchase to add to the bottom of hand-made slippers like these that will make the bottoms non-slip.. I also use these same products for the bottoms of the rugs I crochet. Believe me, I'd rather stay upright... 
Wow, slap my wrist... I shouldn't be so critical. I have designed some pretty ugly things over the years when I think about it.. Why? Not because I really wanted whatever it was, but more to fill the need to crochet something, anything, with whatever yarn I had available at that moment. It's amazing what you come up with when you're trying to use up yarn.  Even here on this site, I have a few patterns that I shake my head and ask myself "what were you thinking?" 
Funny thing is -- all my patterns seem to sell - some better than others. So someone out there likes the designs... 
So, unique to this pattern leaflet the author's of the patterns are listed:
Marjorie Bergmann
Margaret Miller
Bernice Shaps
Mary Thomas
I wonder what else they have designed  - of course, I will have to research... In the quick search I did just now, Mary Thomas came up with a variety of books on knitting and crocheting dating back to the 30s.. Definitely something to look in to. 
... but that's another article down the road. For now, I'm concentrating on documenting all the pattern books I have. Then maybe each pattern. Then, I might get around to research the designers. I wonder if I will live long enough to get all this done? Maybe I should give up my day job! 
Crochet Addicted!